Our region
Excursion destinations
Nature, sport and culture in Upper Carinthia
Nature and sport are very important in Upper Carinthia. That is why there are a wide variety of interesting options available to you to pursue your hobbies.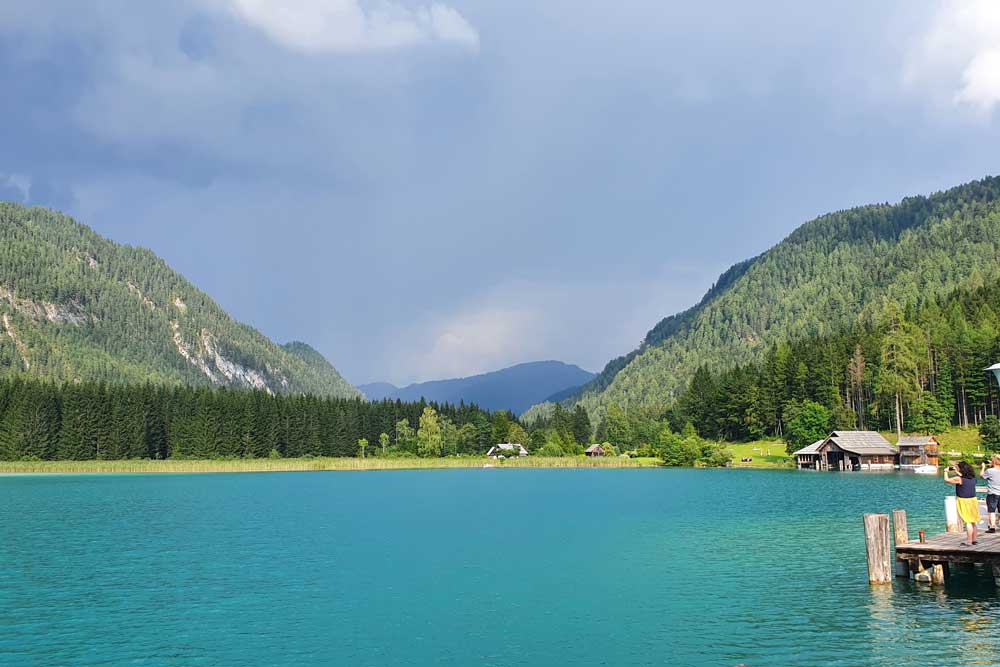 Weissensee
This lake is gorgeous, crystal clear and emerald green. It lies in such calm in the middle of the Gailtal Alps, you can't help but take in this serenity and enjoy it.
The Weissensee is the highest bathing lake in Carinthia at an altitude of 930 m above sea level. Despite its height, the lake has a water temperature of up to 24 ° C in summer. A tour by ship over a length of 11.6 km is pure pleasure. The Weissensee is the purest bathing lake in the Alps.
Emberger Alm
The Emberger Alm is a wide high alpine pasture north of Greifenburg in Upper Carinthia. At 1800 m above sea level, it is located on the southern edge of the Kreuzeck group.
The Emberger Alm is mainly known and loved by hang-glider and paraglider pilots because the west-east orientation of the Drau valley enables optimal thermal conditions.
Paragliding
Have you always wanted to take a paraglider flight?
Together with an experienced tandem pilot from Fly Carinthia you start from the most beautiful places. At the launch site, you will receive instructions on the take-off and landing process. And your dream will come true.
More information at Fly Carinthia
Rafting & Canyoning
Canyoning fascinates people because it is a combination of water and rocks that has to be conquered. Not in a climbing hall, but in untouched and often difficult to access nature, in gorges that only a few people have ever seen.
This requires special equipment such as wetsuits, climbing harnesses and ropes. Jumps into the crystal clear water, swim and slide through rock channels that have been washed out by the water, rappel over waterfalls that amaze us.
Team spirit is required, trust in other people is a prerequisite.
When rafting you have the opportunity to experience the crystal clear white water in the middle of the Hohe Tauern National Park – up close. Rafting means lots of fun and action! Experience a cool ride over the waves with experienced guides. Quieter family tours are also offered, where even the smallest rafters from 4 years of age can experience the adventure.
Canyoning and rafting in Upper Carinthia – an unforgettable experience!
Drau cycle path
The Drau Cycle Path leads you from the world-famous Three Peaks in the Sesto Dolomites in South Tyrol via Slovenia to Varažin in northern Croatia. And it is very close to Seecamping Kleblach-Lind. Enjoy the joie de vivre of the Austrian south along the Drau – culturally and culinary.
More information at Drau cycle path
Nationalpark Hohe Tauern
Seecamping Kleblach-Lind is part of the Hohe Tauern National Park tourist region.
If you would like to find out more about the region and our attractions, we recommend visiting the Hohe Tauern website – the national park region
Further attractions in Carinthia
Top 10 excursion destinations in Carinthia
Grossglockner High Alpine Road
Here you will experience driving fun, wanderlust and nature experiences that you will never forget. And maybe you will meet a marmot….
Goldeck - My sports mountain
Spittal an der Drau's local mountain is always worth a visit. Be it for hiking, to take a sunrise trip, for biking or paragliding or for exciting geocaching.
Nocky Flitzer Turracher Höhe
This summer toboggan run is fun for young and old! Sleek curves lead through the stone pine forest, roundabouts, wave runs and jumps refine the experience. Experience pure adventure and fun over 1.6 km.
Zoo, labyrinth & Rosegg Castle
Carinthia's largest zoo is located 5 km from Lake Wörthersee. This is worth a trip for young and old. Between historical walls and wonderful resting places in the midst of the animals, you will only feel good.
Adlerarena Burg Landskron
At Landskron Castle you will experience a bird of prey air show that will bring you closer to the birds of prey and at the same time impart knowledge about these special animals. This breathtaking show lasts around 40 minutes and will amaze you.
Malta Hochalmstraße & Kölnbreinsperre
Even the way to the Kölnbreinsperre is an experience, because you drive through the valley of the falling waters past Carinthia's highest waterfall. The Kölnbreinsperre is the highest dam in Austria. It is located at 1933 m above sea level and, at 200 m high and 626 m wide, is the highest dam in Austria. A skywalk makes the hearts of adrenaline junkies beat faster!
Hochosterwitz Castle
The Burghochosterwitz is worth a visit. With the armory, the weapons collection and an interesting collection of pictures from the Renaissance period, you will find witnesses to history here. In addition to the ascent with 14 historical castle gates, there is also the possibility of reaching the castle with the Fürst Max Bahn. Once at the top, you can expect culinary delights with local Carinthian cuisine in the castle restaurant. You can also learn about medieval craftsmanship.
Terra Mystica & Montana show mines
A 68 m long miner's slide takes you into the interior of the mountain, directly to the train station, where the two show mines share. A path leads you 600 m through the Terra Mystica with 7 mines, multi media shows and a mine train. You have the opportunity to take the 2 km long mine train to Terra Montana, where the working world of miners from then until now is conveyed to you in 14 stations. The journey ends with a 49 m high shaft elevator.
Happ Klagenfurt reptile zoo
In the Happ reptile zoo in Klagenfurt there are around 1000 animals on around 4000 m2. If you love reptiles and insects, you've come to the right place! A tropical house, 20 different types of lizards, crocodiles, 60 different types of snakes and 20 types of turtles are worth looking at and admired. In addition, there are spiders, frogs, monitor lizards…..outdoor areas with rattlesnakes and snakes from all over the world!
Happ Reptile Zoo is always worth a visit, even on rainy days!
Pyramidenkogel
At 851 m above sea level stands the Pyramidenkogel, a wooden lookout tower, at 100 m the tallest wooden lookout tower in the world! It belongs to the local area of Keutschach.
Leaving the observation tower is an adventure: a 50 m high slide, incidentally the highest slide in continental Europe, is a cool, exciting way to exit the tower again. Another option is the "Fly 100". The "Fly 100" is a flying fox, a cable car that is 100 meters long and descends over 70 meters.
Enjoy the view while having the adventure and fun!
Any questions?
Contact us!