 From the caravan into the water:
Camping right at the lake
Wake up in the morning and the first glance falls on the bathing lake, which invites you to swim in the very early morning. A look into the crystal clear water, the fish frolicking in it and water birds making their first rounds on the lake. Pure idyll! And a calm that takes us out of the stressful and hectic everyday life that captivates us.
Nestled in the mountains of Upper Carinthia, the idyllic town of Kleblach-Lind with 1180 inhabitants is located at the eastern end of the upper Drautal and approx. 10 km as the crow flies from the district capital Spittal an der Drau. Interestingly, the namesake places are separated from each other by the Drava.
And I know I've arrived and can breathe freely.
Camping Pitches
Seecamping Kleblach-Lind has well-tended grass pitches with a size of a good 70m2. Of course, every place has an electricity and a water connection. WiFi is free on the entire site.
New, modern sanitary facilities can be found at the immediate vicinity of the parking spaces.
Price per night & person
from € 12
Wood Cubes
Our Wood Cubes (Mobile Homes) make your vacation an experience.
Price per night
from € 129
Eat & Drink
Seecamping Bistro
Bistro Snacks
Various snacks for small and large appetites such as pizza, toast, chicken nuggets, French fries and Frankfurt sausages.
Hot and cold drinks
Coffee, tea, refreshing soft drinks and chilled alcoholic drinks.
For in-between
Various popsicles, iced coffee, iced cocoa, …
Breakfast at the lake
Start your day with our breakfast menu.
If you love something special, breakfast at Seecamping Kleblach-Lind is just right for you! With or without advance notice – you will get your money's worth and you will   enjoy this breakfast. Come and let yourself be pampered!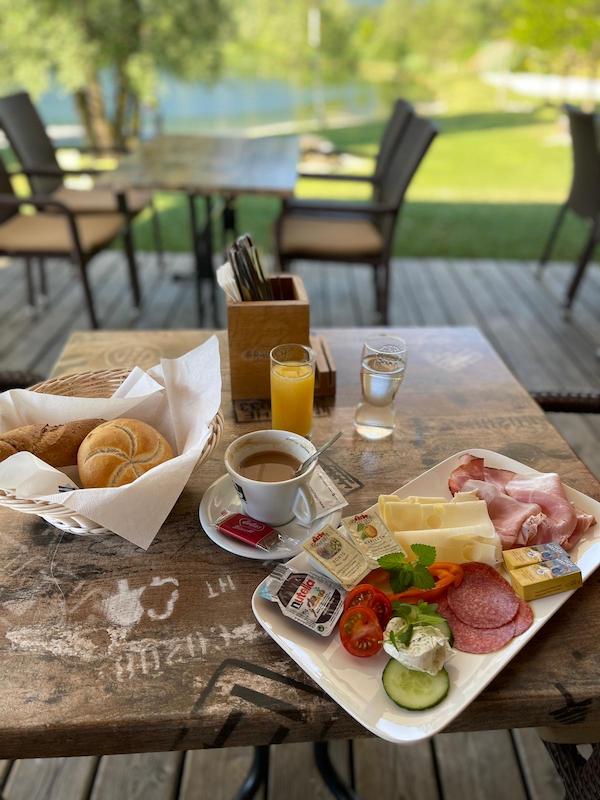 What can you expect?
Amenities
Free access to the lake
And a protected lake that cannot be seen from the road.
Bread service
If you let us know by 7 p.m. the evening before, you will have fresh pastries in the morning!
Modern sanitary facilities
New, modern sanitary facilities in the immediate vicinity of the campsite
Seecamping Bistro
Here you will find the amenities that will make your vacation that little bit more relaxing.
Beach volleyball court
Our beach volleyball court is available to our guests free of charge.
Table tennis
Fitness and fun are very important to us!
Sand boxes for the little ones
Even the little ones are important to us. You can let off steam in 2 large sand boxes.
Barrier-free toilet
Of course, there is a barrier-free toilet for disabled people.
Have visited friends on site. The Wood Cubes are brand new and very beautiful. The pitch 10 m from the lake. Breakfast with a view of the water. Nice bathing jetties. All things new. Sufficient space as only a few places are occupied. Friendly staff and very nice, good restaurant. Bread service. Anyone looking for a new place at the quarry pond away from the crowd has come to the right place. Children can also move around here with plenty of space. Table tennis, swimming area, volleyball and football golf. We would love to come back.
Super friendly team runs the campsite, which opened in May 2019! Cleanliness and tranquility are guaranteed here. The breakfast basket is awesome.
Leisure activities (volleyball, soccer golf, table tennis) ensure active relaxation.
The seats in the first row are super nice and 10m from the water.
The small bistro offers chilled drinks, ice cream and small snacks.
Book your pitch now.
Use the contact options below for non-binding inquiries.
We look forward to you!